L-INKED/Bitch, a perception!
2021-2016 | performance-maker, performer
Current Duration: 45 minutes (8 minutes video installation in the foyer)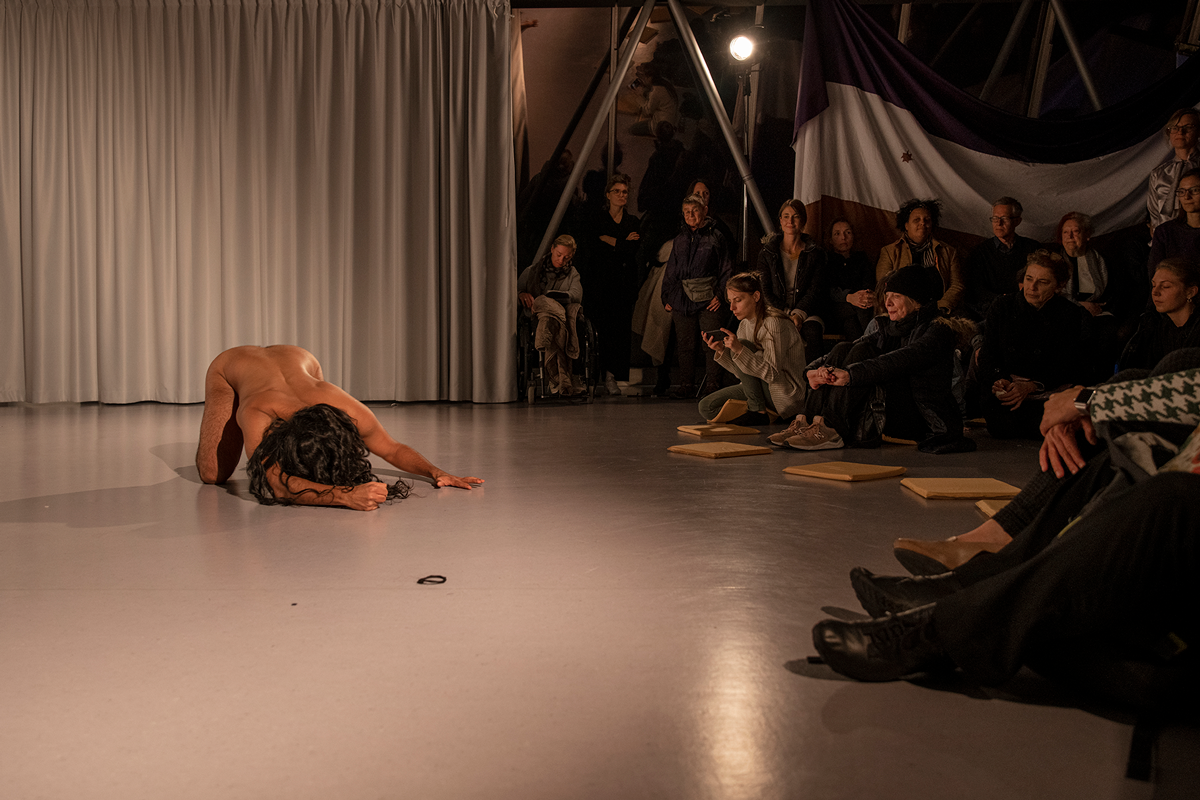 Showing @Altered Affairs Evening
Photo Credit: Violetta Wakolbinger
Labelled-unlabeled, boxed-not boxed, white & black, male & female, good & bad; The performance "Bitch, a perception" (titled L-INKED until 2019) questions the duality inside the human body and psyche. The work investigates the act of conscious and unconscious labelling due to the strict criteria available in our knowledge of words to prejudice and stereotype people.

The research deep dives into the social definitions of a sexual being. The choreographer-performer Jaskaran Anand understands desire as a formless entity and believes that desire does not see any definitions or blocks, it just desires. With his performance he questions the society "Where does the boundary between the 'desire of being in a trance ' and 'the learnt seduction' exists?"
Showing @Altered Affairs Photo Credit: Violetta Wakolbinger

Showing @RED
Photo Credit: Didi Elena

Showing @Altered Affairs Photo Credit: Violetta Wakolbinger
Motivation
Raised in India by my open-minded, forward-thinking parents, I learned that everybody should be treated as you would treat your own self, regardless of their race, sexuality, gender or class. My mother educated me to reflect on the deep divide between genders and how they are boxed & codified in the society we live in. She said that patriarchy wasn't a friend of anyone and also was not led by any specific gender.
Having various personal experiences in my life around the topic, I realized that objectification is not only for a woman but also for a man: the topics of the sensitivity of the man, the emotionality of a man, the fluidity in a gender, the duality in a gender are not appreciated by the normative side of society.

After these personal encounters, I believe that a human's definition of love and desire is created for and by themselves. The same definitions are influenced by many factors such as culture, environment, society, personal expectations and experiences, which in turn, influence the society. Thereby, the project also aims at emphasizing a respectful attitude towards one's own self and others' preoccupations, especially when someone does not fall in "my" definition, as the definition of the other is equally important for the other as mine is for myself.
I started researching the spiritual, psychological and practical boundaries of myself to understand my own definitions of gender and sexuality.
Showing @RED
Photo Credit: Didi Elena




Showing @Theater Phönix




Showing @RED
Photo Credit: Didi Elena




Credits

Concept, Direction, Choreography, Performer, Video installation and Text
Jaskaran Anand

Dramaturgy
Robert Steijn

Dramaturgical Consultant
Karin Harrasser

Music
RENU - Renu Hossain, Music leads from Britney Spears, Robin Thicke and The Paino Guys

Costume and Stage Design (solo)
Jaskaran Anand with Robert Steijn

Documentation video
Andrea Schaberneck and Stefan Fuchs, in collaboration with DorfTV

Post production, PR, Organization
Jaskaran Anand

Youth reach, social promotion, and educational development of the project
Poika via Philipp Leeb -Verein zur Förderung von gendersensibler Bubenarbeit in Erziehung und Unterricht

Digital Outreach
DorfTV Linz

Supported by
Land Amt OOe (solo research 2019), DorfTV Linz, RedSapata Tanzfabrik Linz , D.ID Dance Identity with Kulturzentrum Eisenstadt , and Holykuti Records UK